About this event
African Wonder Women Organisation (AWWOrg) and partners present 1st Anniversary Celebration Seminar
Theme: JOURNEYING THROUGH HARD TIMES WITH HOPE'
Date: Sunday, June 26th, 2022
Time: 15:00 (GMT)
Venue: Zoom
Women in many countries experience great hardship after their husbands die. They are not looked after by governments or NGOs and they are shunned by society.

Raj Loomba
When people journey through hard times, they want to be told that everything is going to be fine, they want a sense of security and the assurance that their worries and sorrows will soon be gone. African Wonder Women Organisation (AWWOrg) serves a community of African widows, the 'Unserved community' and aims to give hope to many women and their children via our projects.
In the absence of social and legal protection, the United Nations aims to ensure that widows are not left behind. AWWOrg is on a mission to empower 2000 widows by 2025, to give widows hope and the lifeline to believe again. We are empowering someone to regain confidence, and trust in themselves and to have belief in a brighter tomorrow. We are also letting 'forgotten women' know that, they are not alone and that against all odds, it is okay to dream. We are helping African widows and women find their voices again as we continue to share this message of hope via such projects as, 'Every Emotion Is Valid', our emotional well-being platform.
"After losing my beloved husband to COVID-19 in the early stages of the 2020 COVID-19 pandemic and with no reference points for this kind of loss, I experienced unspeakable trauma and grief. Furthermore, this loss exposed the real effects of bereavement, stigma, stereotype, negative traditions and biases associated with widowhood in the Nigerian culture and in Africa. African Wonder Women Organisation (AWWOrg) was birthed in my place of deep pain and trauma."

Princess Folaji Fasanya-Omoyeni (Convener)
Our Vision
African Wonder Women Organisation aims to be an agile, trusted, innovative global initiative of influence committed to changing socio-cultural practices of injustice, discrimination and exploitation associated with widowhood in African communities in the United Kingdom, Africa and globally.
Our Mission
To be a positive voice for countless, voiceless African widows and their children traumatised by loss, which is exacerbated by stigma, stereotyping, taboos, myths and negative beliefs from the African culture and traditions, including loss due to the COVID-19 pandemic. To be an initiative that enables African Widows to transition to a life of fulfilment. Our mission is achieved via live projects;
Easing the trauma of widowhood and promoting the rights of African Widows
Fostering applicable, practical solutions to challenging issues for the benefit and improvement
of widows' lives
Giving widows the platform to connect digitally and form positive relationships while uplifting each other
Our Objectives include the following among others:
Uncovering and unveiling injustices associated with widowhood and implementing creative solutions
Providing a platform where African widows can share experiences and speak out about issues affecting them
1st Anniversary seminar will feature:
– Keynote Speeches
– Special Guest Speeches
– Case Studies
– Break out Rooms
– Q&A, Entertainment
– Games
– Raffle Draw and more.
We look forward to welcoming you on the day.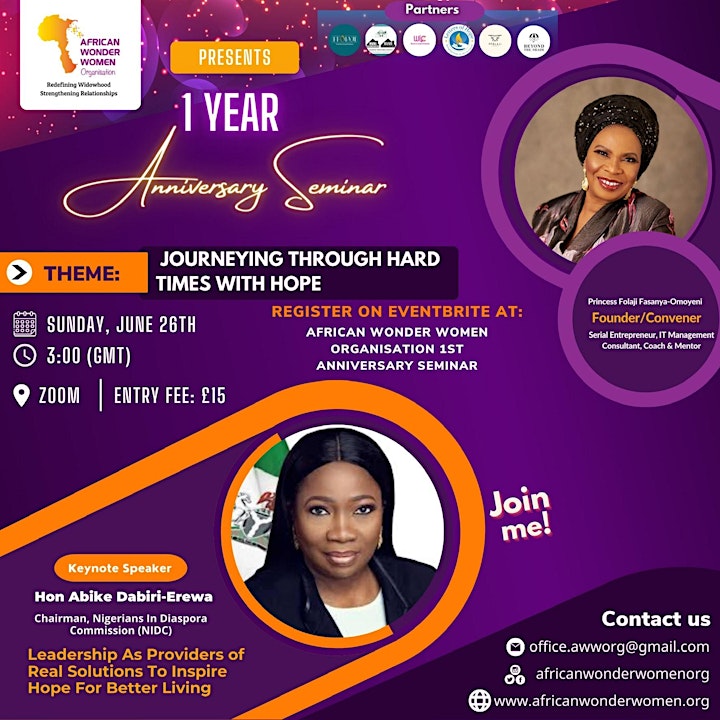 Keynote Speaker
Hon Abike Dabiri-Erewa
Chairman, Nigerians In Diaspora Commission (NIDC)
TOPIC: LEADERSHIP AS PROVIDERS OF REAL SOLUTIONS TO INSPIRE HOPE FOR BETTER LIVING
Abike Kafayat Oluwatoyin Dabiri-Erewa, born in Jos, Plateau State is a Nigerian politician and former member of the Nigeria Federal House of Representatives representing Ikorodu. Constituency in Lagos State. She was the Chairman of the House Committee on Media & Publicity.
She was also the former Chairperson of the House Committee on Diaspora Affairs,[4] and was elected for the first time in 2003, and re-elected in 2007 and 2011.
In 2015, she was appointed as the Senior Special Assistant to President Muhammadu Buhari on Foreign Affairs and Diaspora. In November 2018, Dabiri-Erewa was given the new role of Chairman/CEO of Nigerians in Diaspora Commission.
Dabiri-Erewa worked for the Nigerian Television Authority (NTA) for fifteen years, anchoring the weekly NTA Newsline programme and taking a particular interest in poverty and social justice issues. She retired from her position at Nigerian Television Authority to stand for election in the House of Representatives, winning with a substantial majority. While in this role, she stood against the third term bid of former President Olusegun Obasanjo.
She was the Chairman, House Committee on Media in Federal House of Representative from 2003 to 2007, Honourable Member, Federal House of Representative from 2003 to 2007, Board Member, Lagos State Broadcasting Corporation Vision 2010, Honourable Member, Federal House of Representative from the year 2007 to 2011
Dabiri-Erewa attended Maryland Private School, Maryland, Ikeja for her primary school education, and St. Teresa's College, Ibadan for her secondary education. She obtained her first degree in English Language from the University of Ife (now Obafemi Awolowo University, OAU) Ile – Ife. She obtained a post-graduate diploma (PGD) in mass communication and also a master's degree in mass communication from the University of Lagos, Akoka. She also studied in the United States at Harvard University's John F. Kennedy School of Government.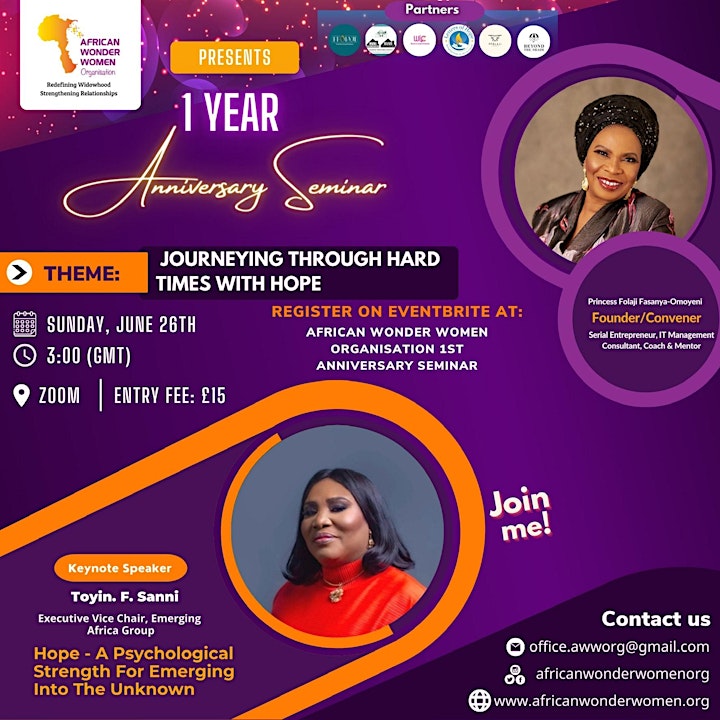 Keynote Speaker
Toyin F. Sanni
Executive Vice-Chair, Emerging Africa Group
TOPIC: HOPE – A PSYCHOLOGICAL STRENGTH FER EMERGING INTO THE UNKNOWN
Toyin Sanni is Founder and CEO of the Emerging Africa Group, a Financial Services Group comprising investments in Investment Banking, Financial Technology, Venture Capital and Microfinance Banking, Co-Founder of the Africa Investment Roundtable as well as Board Chair at Layer 3 Limited and Vice-Chair, Fundall Limited, both of which are innovative technology companies.
A prominent Investment Banker, Public Personality /Speaker and Influencer, she derives satisfaction from grooming future leaders (through capacity-building initiatives such as a highly rated Executive Mentorship program) and from preferring capital solutions for financing & investing challenges of African governments, businesses & individuals.
With a background in securities law and extensive experience in corporate finance, investment banking and asset management, she leverages networks across markets and her extensive experience working on leading transactions to achieve growth objectives. She leads a team of experts who provide advisory & capital raising solutions across Africa to achieve sustainable economic growth.
Toyin sits on several boards and committees including Transnational Corporation Plc, the Off Grid Energy Fund – Financing Energy Inclusion (OGEF-FEI) sponsored by the AfDB and other International Development Finance Institutions, NEPAD Business Group Nigeria and the Pearl Awards Governance Board. She chairs the Technical Committee on Financial Literacy of the Nigerian Capital Market and is Ambassador/Co-chair for the Africa CEO Forum Network for Nigeria. She is also the Founder and Chairperson of the Women in Finance Nigeria Network and Founder, WIFNG UK.
Toyin was declared the All African Business Woman of the year 2017 by CNBC Africa, & Nigeria's CEO of the Year 2017 by Pearl Awards. In 2020, she won the Africa Influencer (CEO) Award by Tech Times Africa.
Toyin has written three published books including Riding The Eagle – A Guide to Investing in Nigeria. Her past roles include President, Association of Investment Advisers (CIIA), President, Investment Advisers and Portfolio Managers (IAPM), and President, Association of Corporate Trustees.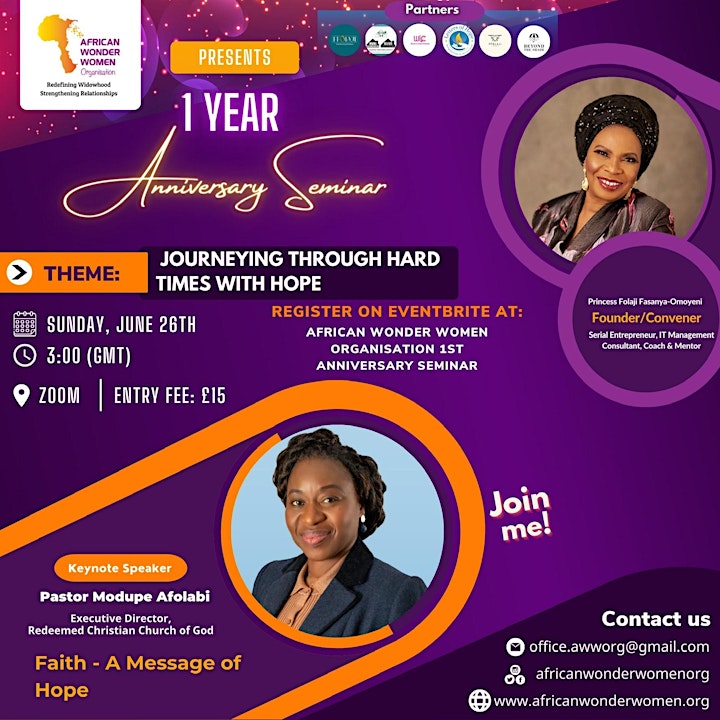 Keynote Speaker
Pastor Modupe Afolabi
Executive Director
Redeemed Christian Church of God
TOPIC: FAITH – A MESSAGE OF HOPE
Modupe Afolabi, a Pastor and the Executive Administrator of the Redeemed Christian Church of God (RCCG), Central Office. She is a seasoned speaker and a teacher of God's word who also has a passion for building up youths spiritually.
Her desire is to see young people make informed decisions before marriage, particularly through the charity she runs together with her husband, Pastor Wale Afolabi called JB4 Courtship. She has counselled many people and helped them discover who they are truly meant to be.
Pastor Modupe is blessed with three wonderful children.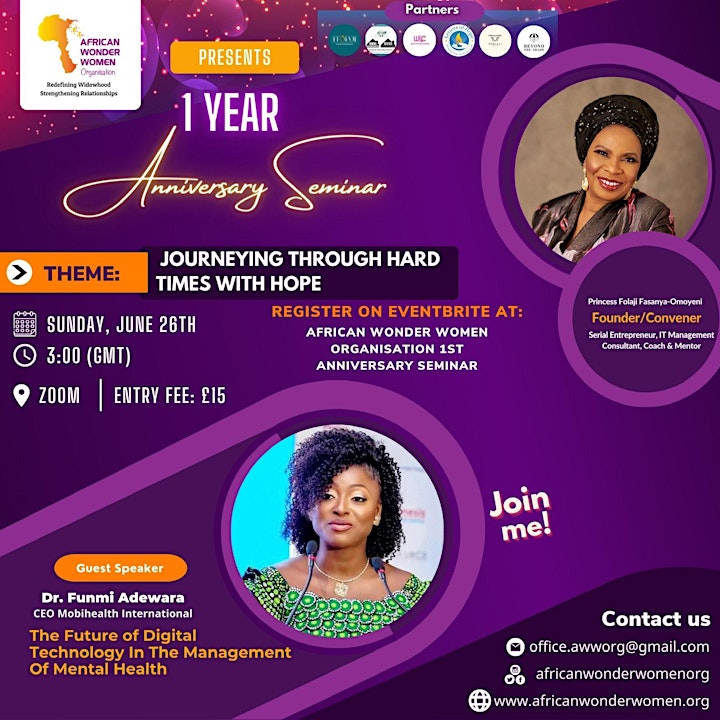 Guest Speaker
Dr. Funmi Adewara
Founder/CEO Mobihealth International
TOPIC: THE FUTURE OF TECHNOLOGY IN THE MANAGEMENT OF MENTAL HEALTH
Dr. Funmi Adewara is a multi-award-winning UK-based Nigerian-British Physician. She is a Cambridge-trained Bioscience Entrepreneur with a multi-disciplinary background in Clinical Medicine, Pharmaceutical and Business Development across the healthcare and energy sectors.
Funmi is driven by a passion to change the poor narrative of Africa's healthcare landscape through leveraging information technology. This has brought both her and Mobihealth much international acclaim, thus attracting multiple awards globally.
At the 2020 United Nations General Assembly, Funmi was honoured with the World Bank's Sustainable Development Goals', SDG3&Her Global Award 2020. She was also one of the 7 global winners picked amongst 2400 contestants worldwide. This coveted award, a first for Nigeria since its formation, earned Funmi a congratulatory message from Nigeria's President, Muhammadu Buhari GCFR at the celebration of Nigeria at 60, in October 2020.
Mobihealth was also a proud finalist at the recent CISCO Global Problem Solver Awards 2021.
As an international speaker of repute, Funmi has been featured as a panellist on Forbes Africa and Philips' Africa Future Health Summit by CNBC, the United Nations Committee on Science Technology and Innovation, the African Development Bank, Channels TV, BBC radio's Focus Africa, Channel 5 TV UK, Financial Times London, Telegraph, Voice of Africa – the Largest African diaspora news channel and NASDAQ.
Funmi has been recognized as one of the Most Influential People of African descent.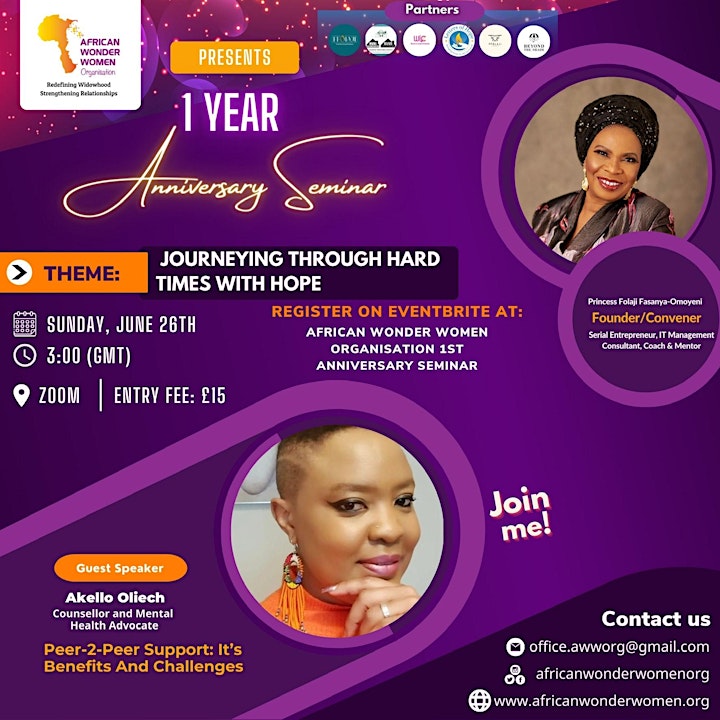 Guest Speaker
Akello Oliech
Counsellor and Mental Health Advocate
TOPIC: PEER-2-PEER SUPPORT, ITS BENEFITS AND CHALLENGES
"We all need a listening ear, words of love and second chances. I am here to cheer you on" that is the mantra of Akello Oliech.
Akello is a gifted lady whose purpose is counselling and guiding people of all ages into wellness and wholeness; she is big on advocating for mental health.
From a personal experience, wisdom gained through the years and study – coupled with the gifts of encouragement, empathy and listening; Akello has helped many to rise above their personal and social struggles to become better versions of themselves.
She does this through her writing, one on one therapy sessions, recorded videos, virtual discussions and social media platforms. She runs Single & Saved Page and SINGLE & SAVED Facebook Group which has nearly 162,000 unmarried members from all over the world. This Group is for male and female singles of various ages to come together and learn, heal, have fun, make friends and be prepared for a better future in emotional, mental, financial and marital success. She also runs Married & Saved page and MARRIED & SAVED Facebook Group for the married to foster wholesome homes; Wanawake Assembly page and WANAWAKE ASSEMBLY Group. This Group is to address the woman in all her totality – her struggles, potential, opportunities and desires.
As a formidable woman, Akello seeks to play her unique role in not only bringing about people healing from trauma but also people well equipped to live their lives to the fullest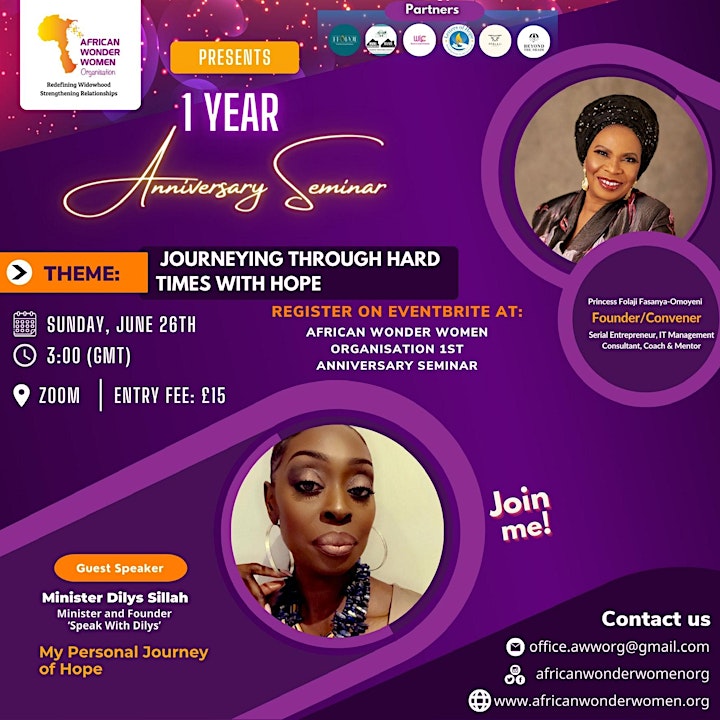 Guest Speaker
Minister Dilys Sillah
Minister and Founder 'Speak With Dilys'
TOPIC: MY PERSONAL JOURNEY OF HOPE
Dilys Sillah is a bestselling author of the book, Not This Widow, an accredited transformational life coach, women and children's advocate, a public and TEDx speaker, events host and minister at New Glory Ministry in London.
She is also the host of 'Speak With Dilys' a show aired via Facebook on Sundays at 8PM GMT dealing with real-life issues with humour, wisdom and heart to help restore family values and encourage effective change in our communities and across the globe.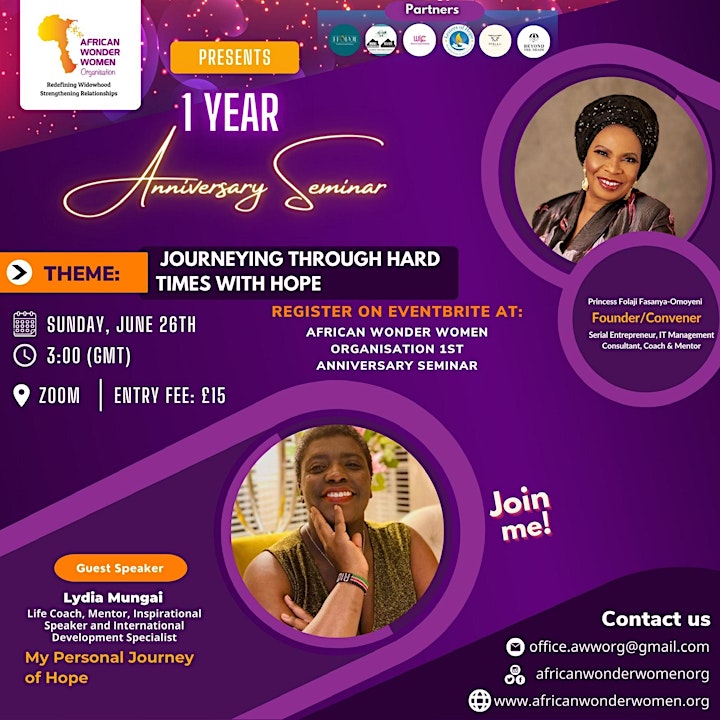 Guest Speaker
Lidia Nyambura
Life Coach, Mentor, Inspirational Speaker and International Development Specialist
TOPIC: MY PERSONAL JOURNEY OF HOPE
Lydia Mungai is a Life Coach, Mentor, Inspirational speaker, content creator Entrepreneur and International Development Specialist.
I am a mother of two young adults 23 andv20yrs old who is my highest calling and responsibility and a mentor to thousands of other young adults and peers. I am passionate about positive change and impact on people's lives, inspiring others to live meaningful and purpose-driven life.
My husband's death was sudden its an unbelievable 12 years and 6 months since he left us and when my status changed from married to widowed, Mrs to not sure Ms wife to just me… This was also a starting point of deep reflections snout death and Widowhood and so my book that will be launched soon
This is my story this is my song…….I am standing strong…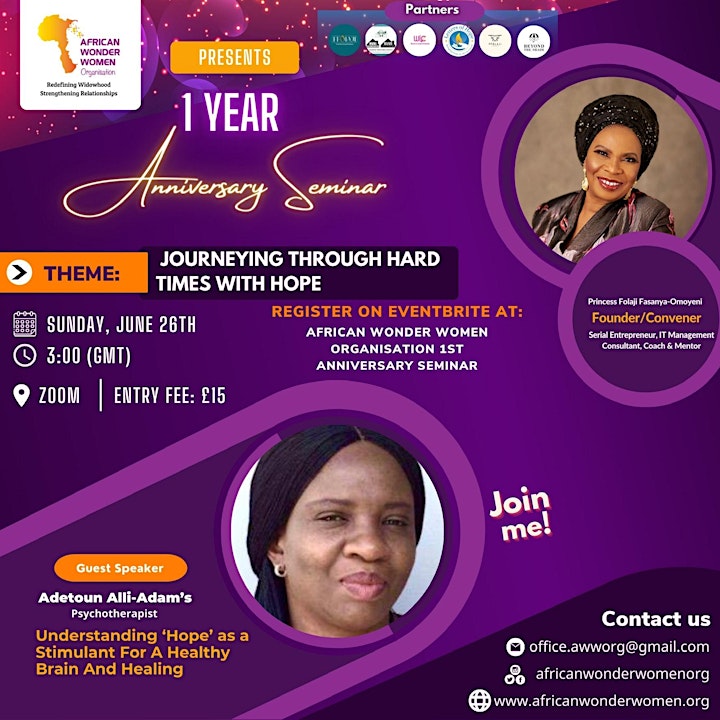 Guest Speaker
Adetoun Alli-Adams
Psychotherapist
TOPIC: UNDERSTANDING 'HOPE' AS A STIMULANT FOR A HEALTHY BRAIN AND HEALING
Adetoun Alli-Adams is a qualified and experienced integrative psychotherapist.
As well as working with clients who exhibit mental health issues such as anxiety, depression, bereavement and loss, she specialises in working with adult clients struggling with the effects of childhood trauma.
Adetoun Alli-Adams is registered with the British Association of Counselling & Psychotherapy (BACP). She abides by the professional codes of good practice and the ethical framework of the organisation.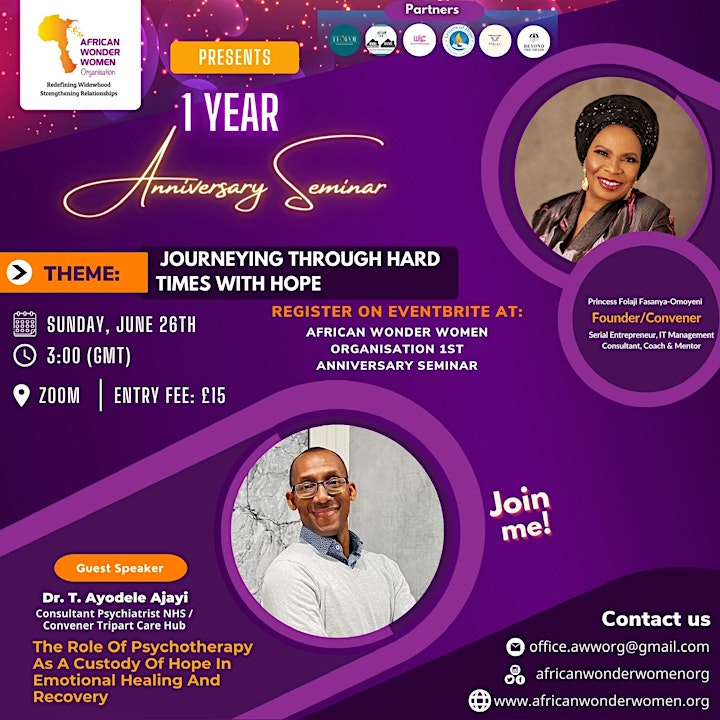 Guest Speaker
Dr T. Ayodele Ajayi
Consultant Psychiatrist NHS and Convener, Tripartite Care Hub
TOPIC: THE ROLE OF PSYCHOTHERAPY AS A CUSTODY OF HOPE IN EMOTIONAL HEALING AND RECOVERY
Dr T. Ayodele Ajayi is a consultant psychiatrist who has been working in the NHS for two decades.
He is a public mental health newspaper columnist. He manages a YouTube channel Tripart Care where he delivers bite-sized mental health education relevant to Black and Church communities.
He is a trained mentor and coach and is the Founder and Executive Lead of Mentor Into Medicine- a mentoring organisation that empowers school and college students from disadvantaged backgrounds, to achieve their lofty dreams of studying medicine.
Dr Ajayi is also the founder and Convener of 'Tripart Care Hub', a safe sensitive supportive space to discuss in a culturally in tune and spiritually sound space, issues pertaining to emotional wellbeing.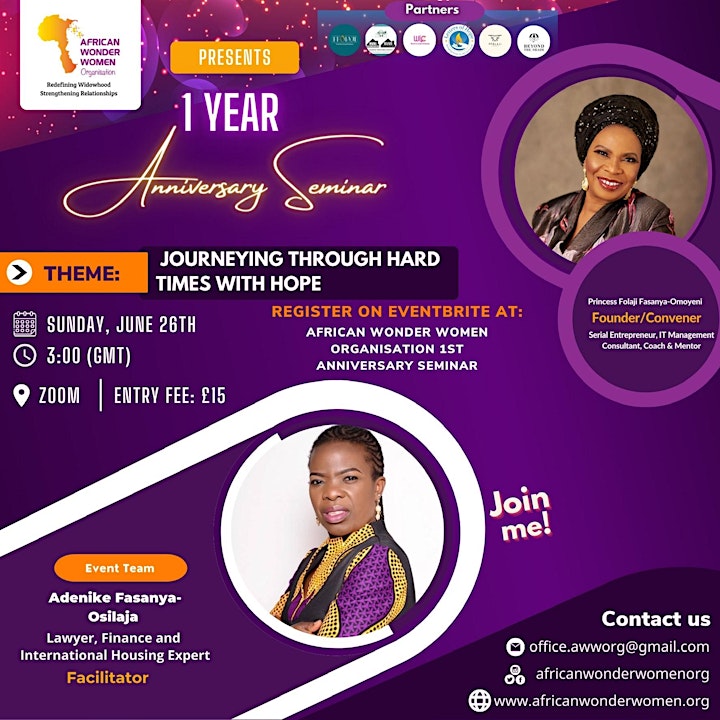 Event Team Member
Adenike Fasanya – Facilitator
Lawyer, Finance and International Housing Expert
Adenike Fasanya-Osilaja is the Owner, President and CEO of Marvel Ventures Mortgage, Inc. She has built this company into one of the most successful, privately-owned Mortgage Brokerage firms in Chicago, with expertise in every mortgage product offered in the market today to fit today's consumer.
Adenike is a female in a male-dominated industry, she aims to continue breaking the glass ceilings and paving the way for the next generation of female mortgage brokers. She has a burning passion to provide the customer with complete and targeted education that, not only puts them in the best loan available but also, provides them with tools to remain successful homeowners throughout life.
Adenike is the Founder of the Women in the Housing Sector Initiative (WHSI), an initiative that supports and mentors women professionals coming into the industry as well as women desiring home ownership.
Adenike believes that her greatest achievement is being a mother and a wife.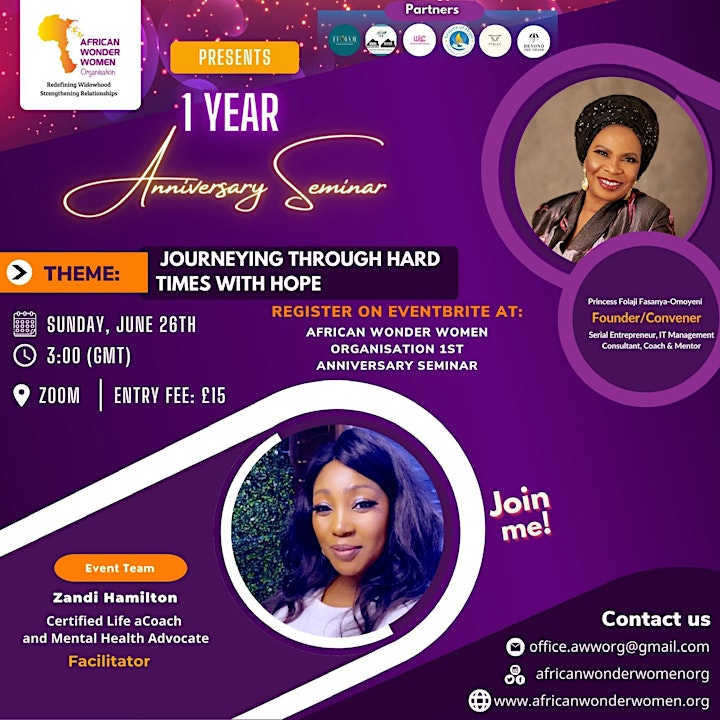 Event Team Member
Zandi Hamilton – Facilitator
Certified Life Coach and Mental Health Advocate
Zandi Hamilton is a Mental Health Advocate, Certified Life Coach and founder of 'Beyond The Shade', with a background in IT.
Driven by personal experiences and those close to her, Zandi is passionate about raising mental health awareness in ethnic minority communities.
Zandi is a widow and mother.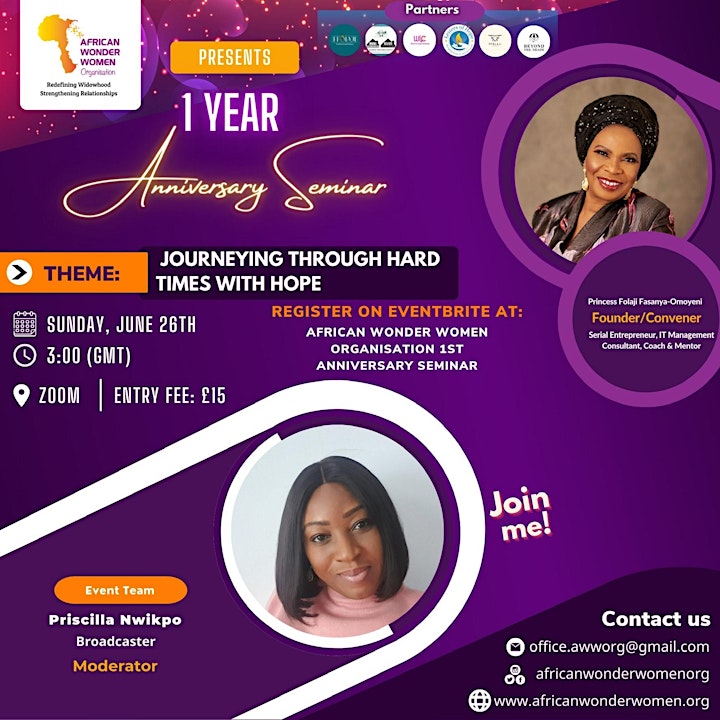 Event Team Member
Priscilla Nwikpo – Moderator
Broadcaster
Priscilla Nwikpo is an award-winning broadcaster, with a wealth of experience as a TV anchor as well as a political commentator.
She is an engaging moderator of high profiled political and business conversations often attended by captains of industry and political leaders from across the world.
She is also an advocate of women's issues.
Priscilla holds a certificate for Executive leadership from Oxford University.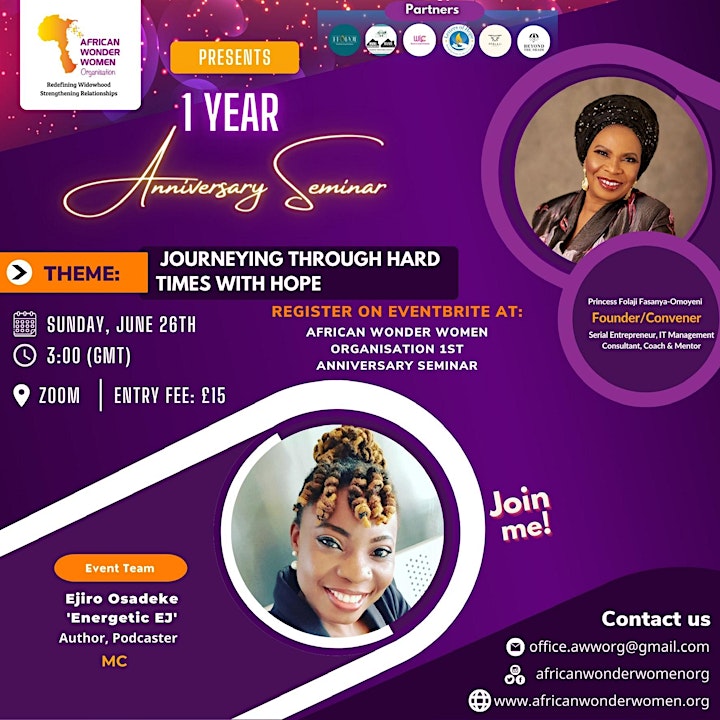 Event Team Member
Ejiro Osadeke – MC
Author, Podcaster
Ejiro Osakede popularly known as The Energetic EJ is a woman of many expressions. She's a Singer, Trainer, Sound Engineer, Author, Voice Over Artist, Podcaster and Virtual Event Planner & Moderator.
Ejiro is a Master Storyteller and her Podcast, 'The Afrocentrist Podcast' focuses on sharing content that speaks to self-improvement and self-development, helping people find their voices, tell their stories and spread the message of hope.
She is also the author of two books; Podcasting With A Difference and The Ultimate YouTube Live Streaming Guide.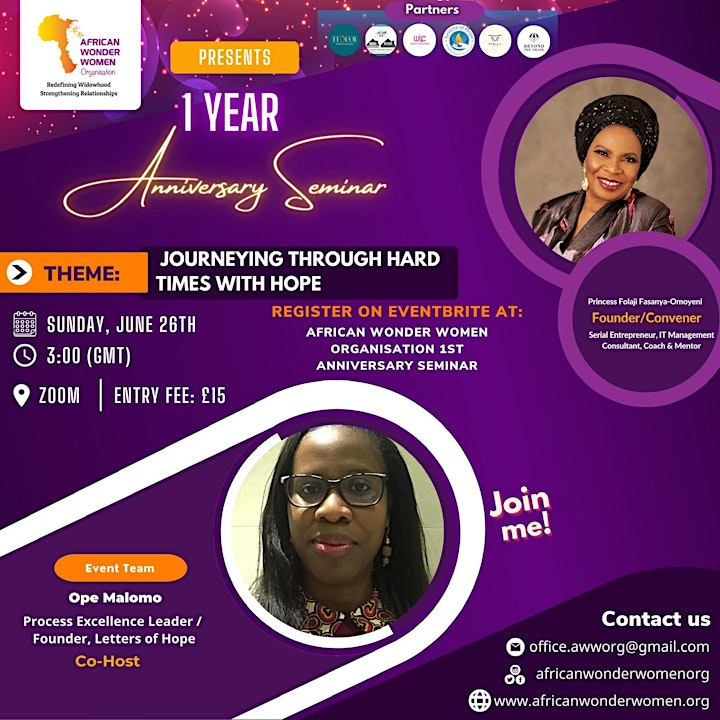 Event Team Member
Opeoluwa Malomo – Co-Host
Process Excellence Leader
Opeoluwa Malomo is the founder of Letters of Hope, an organization that supports the Bereaved and those who love them; bringing hope in times of despair.
Letters of Hope serves as a resource hub, providing tools and resources to help navigate through the maze of grief. The organisation also offers gift packages to the bereaved.
Ope Malomo is an encourager by nature and is particularly passionate about helping grieving children find healthy ways to cope with their loss and rediscovering their joy. This passion was birthed from her personal experience of loss as a young child, in addition to her voluntary work with a number of bereavement charities.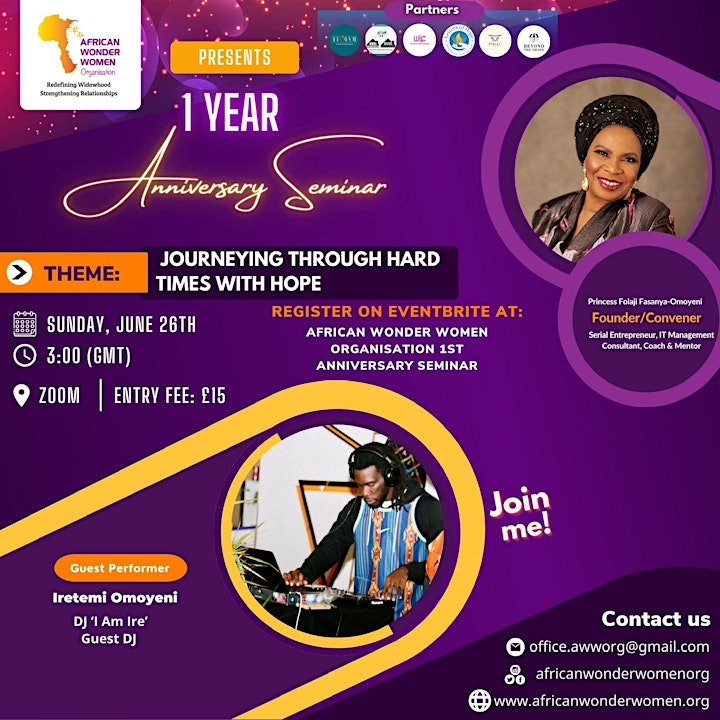 Guest Performer
Iretemi Omoyeni – Guest DJ
DJ 'I AM IRE'
Iretemi Omoyeni is a CRM Manager at a leading UK University, a self-taught, DJ / music producer and a founding member of events, fashion and lifestyle brand Classic Morrow based in Bristol.
Iretemi performs his DJ skills at various events hosted by himself and Classic Morrow as well as corporate events, house parties and more.
Iretemi has made waves in his scene using a mix of Afrobeat, RnB and Hip Hop flavour. To find out more or sample his works visit his instagram (@ear_e_ @classicmorrow and @classicmorrowradio) or Soundcloud (https://soundcloud.com/classicmorrow).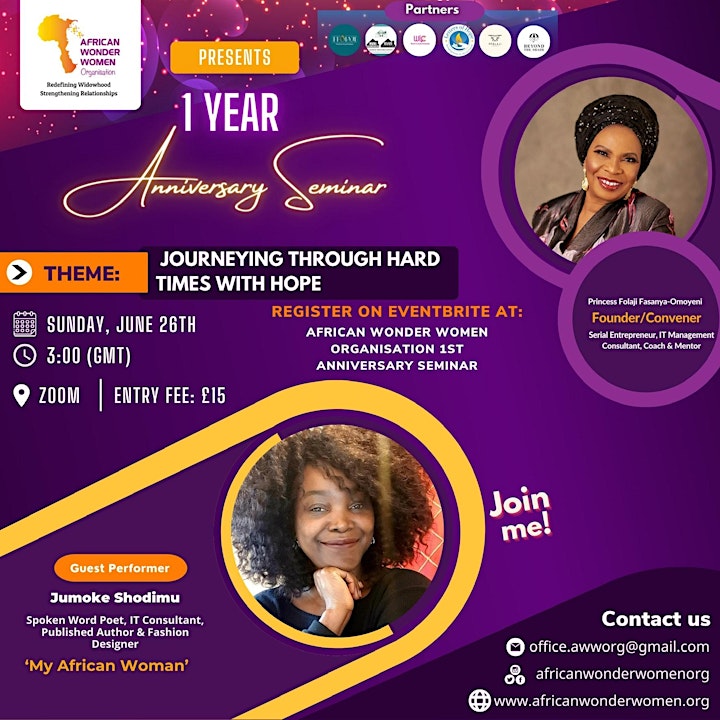 Guest Performer
Jumoke Shodimu
Spoken Word Poet, IT Consultant, Published Author and Fashion Designer
'African Woman'
Jumoke Shodimu is an IT consultant, and a published author with an avid interest in writing poetry and fashion designing.
Jumoke is passionate about all matters concerning the youth and volunteers with the youth clubs. She also loves to dance African dance.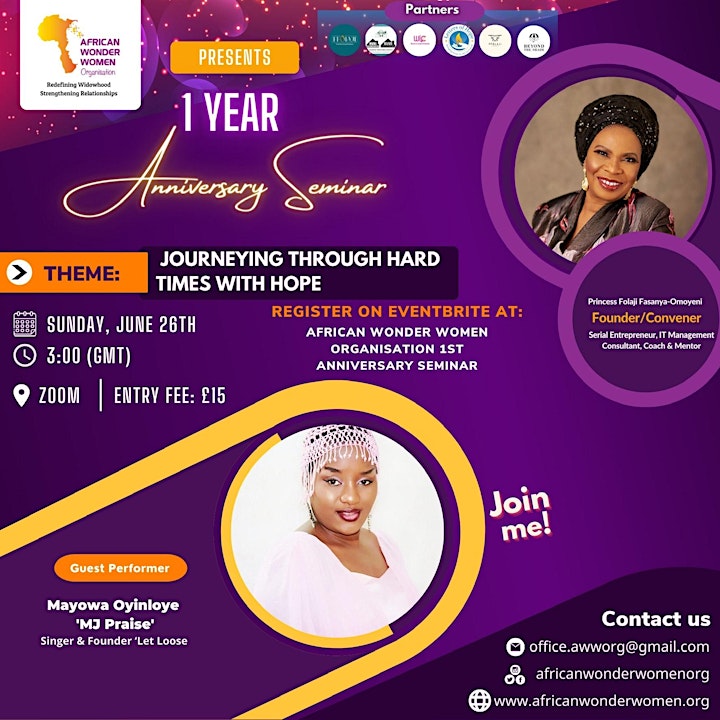 Guest Performer
Oluwamayowa Oyinloye
Singer and Founder, 'Let Loose'
Mayowa also known as 'MJPraise' is a UK-based award-winning Gospel artist and songwriter.
In December 2021, Mayowa recorded a unity Song, ONE VOICE, which featured Kent Police, Kent Awakening Church, Scope, Herbology, Bollywood Restaurant, New Look, Poundland, and British Heart Foundation amongst others. This video was played on TBN and KICC TV. This song attracted the British Royal family and she was invited to sing during a visit of HRH Prince Charles and the Duchess of Cornwall HRH Camilla to Sheerness in Kent
Mayowa is the leader of the SEASONS Community Choir Gillingham and the LET LOOSE Gospel Band. She works as a Gospel plant leader, which is a pioneering role at St Marks Church of England in Gillingham. She also organises a monthly 'Pentecostal style' Praise Night in the Anglican Church.
Mayowa's work in the community was highlighted in the WE LOVE MEDWAY film during the Medway Light Night in February 2022.
Mayowa is married to Ilesanmi "Dammy" Oyinloye and they have three children Praise, Joshua and Paul.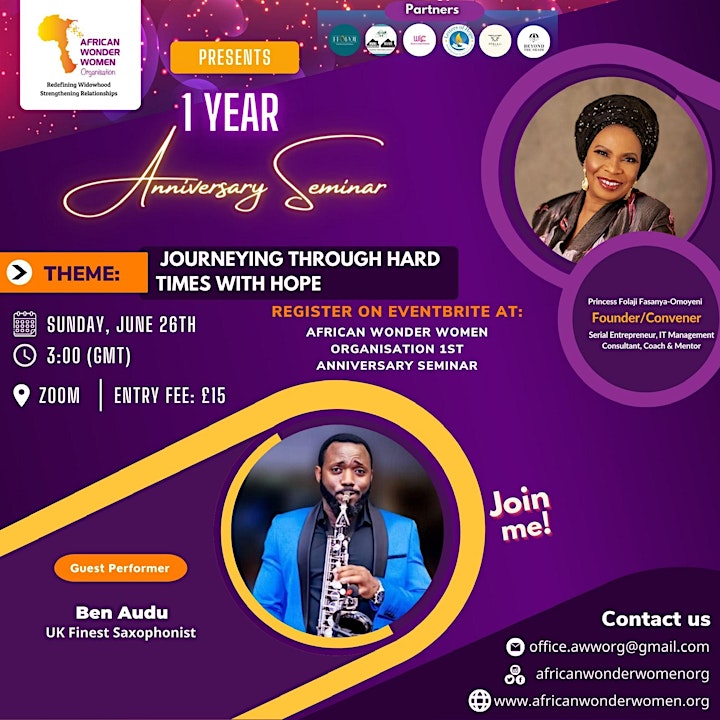 Guest Performer
Ben Audu – UK Finest Saxophonist
Ben Audu is an African Gospel jazz fusion saxophonist and a songwriter. Ben takes a spiritual approach to his music, working with his saxophone to extemporize a range of ways to praise his divine God.
Following on from four highly successful Albums, THANKSGIVING, GLORIOUS CROWN, Open Heaven and Highest Praise in 2012, 2014, 2018 and 2021 respectively, Ben Audu's friends and fans have been able to testify to Ben's own aural shapeshifting abilities on the saxophone.
His unique sound leaves an indelible imprint on the listener.
For more information, email: benaudu1@yahoo.co.uk
---
Testimonials
---
Very well done Sis! Loved the website reveal 😍
Onwards and upwards …#AWWO

Ayo Sonoiki
The "Every Emotion is Valid" virtual event was a combination of inspiring, educative and insightful.
The workshop was highly educative and practical. The Facilitator was detailed and he brought the topic home as regards the African perspective on handling emotions.
Through the workshop and the break out session, I learnt to embrace and name my emotions appropriately.
And thank you so much for sharing your story. Every African, man and woman, needs to hear your story.
We all need to learn that every emotion is indeed valid; our emotions are not wrong, it is what we do with them that matters.

Temitope (PA)
Perfect
This was a very impactful event with a global, enthusiastic audience.The atmosphere was so enriching and it was my privilege to speak to such a distinguished audience. I am looking forward to the seasons of global ground breaking outcomes from brand FFolaji.

Dr T Ayodele Ajayi Consultant Psychiatrist/ Founder & Convener Tripart Care Emotional Well-being Hub
---
---
Well done dear Sis, a great event💫💫💫👊🏽

Folake Flo
Very well done Sis! Loved the website reveal 😍
Onwards and upwards …#AWWO

Ayo Sonoiki
Congrats Queen!
It was indeed an amazing event.
The Every Emotion is valid program made me get intune with myself. Hearing your story and how vulnerable you felt brought memories and I was able to process past hurts that had been left unprocessed.
Seeing how far you have come also brought in the positive belief that no matter what we go through, we can survive and live above the pain.
Thank you for sharing your story. I'm sure a lot of people will begin their healing journey from there.

Nike Folagbade – Website developer
---
---
It was indeed a relieving and rewarding session. Congratulations 🎊
As I listened to you talk I got emotional too. E pele. Eku ise. Partner with us too.

Princess Pamela
We felt you during the session yesterday. Well done Sister for holding up. Thank you for all that you do. May God almighty continue to uphold you and the boys (rather 'men' now) now and for the future ahead. 😊

Motunde Ogunjebe
Such an inspirational event 😇! It was a pleasure and privilege to speak. Thank you for the invitation PrincessFolaji Fasanya-Omoyeni
This was a very impactful event with a global, enthusiastic audience.The atmosphere was so enriching and it was my privilege to speak to such a distinguished audience. I am looking forward to the seasons of global ground breaking outcomes from brand FFolaji.*

Dr T Ayodele Ajayi Consultant Psychiatrist/ Founder & Convener Tripart Care Emotional Well-being Hub
---
---
Thanks sis
It was indeed a very good time yesterday and thank you for being you
You are indeed a blessing to our generation and the coming ones too
You indeed are the brand and I am so grateful for your invite.

Yejide Adebiyi
Well done Anti Folajjjj. You never cease to amaze me. May God continue to strengthen you. Sorry I joined late but what the little I heard still blessed me😘🌹

Jumoke Alli
Congratulations my dear sister 👏🎉💗on an amazing event. The Universe awaits 🤗💕

Mary Akangbe
---
---
Grief is real.
And I can't tell you how proud I was to see you unapologetically sharing almost daily about your grief when your husband passed. And I didn't know you were actually grieving the loss of your younger brother when your hubby passed.

Anonymous
Once of these days, I'd love to share my story of my feelings, emotions and actions when I lost two of my younger sisters on the same day in a boat accident….
Through every season of life, Jesus is glorified.🙏🏾 May all your dreams for yourself and others come true!
Long live AWWO!
This is such a beautiful start to what I know will be an impactful and lasting story!"

Clara Rufai
Every Emotion is Valid was an inspiring event that captured the pain, struggles, stereotype that an African widow goes through. But against all odds, the host, Princess FFolaji rises from the pain and all the other emotions that should break her down, simply because she came to terms with the fact that every emotion is valid. The vulnerability made the event very touching and relatable. It was beautiful to read from women across the globe who could relate and resonate with the subject matter.
Thank you Princess Ffolaji for being open and taking the bull by the horn to share your story, thereby giving other women the permission to speak up and get the help and support they need.
Also congratulations on the launch of your website. Looking forward to the amazing work you are setting out to do with women around the world.

E.J
---